Stop Paying So Much For Pet Medications!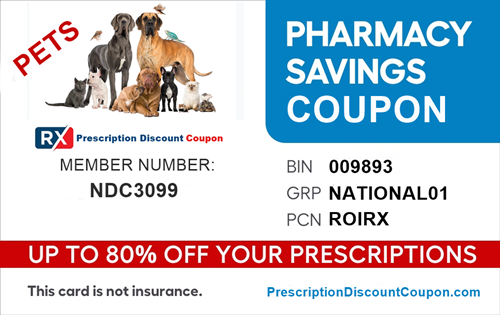 How To Use Instructions:
Have your veterinarian write a paper prescription for the medication(s) and take it to your local pharmacy.
Show the pharmacist our Pet Rx discount card / coupon.
Have them save the information for future refills.
Free Pet Discount Card
Use our pet discount drugs card to save up to 80% on your pet's prescription medications.
Don't let your pet's prescription medication bills dig into your savings. Learn how you can use our pet discount card to save on your dog's, cat's, or farm animal medication.
Once you join this pet prescription saving program, you can enjoy an average saving of up to 65%. This average saving can also rise to 80 % if your pet's prescription contains generic or brand drugs.
Additionally, this pet discount card is helpful in case you don't have pet insurance. It's also handy when your pet's insurance doesn't cover some of the prescribed medication.
Pet discount drugs card Key highlights
No registration fees
No renewal fees
No age limits
You can start immediately to save on pet medication
No pet health restriction
Can be used in over 70,000 participating pharmacies nationwide
Enjoy average savings of up to 85 %
Get your pet's discount card here, and start saving.
It's Now Easy To Save On Pet Medication
Getting your pet's medication straight from the vet's office can be convenient. However, it might be expensive compared to visiting your local pharmacy.
Moreover, did you know most of our pet medications have human equivalents available at your local pharmacy?
Armed with this pet discount drugs card, ask the vet to provide you with your pet's prescription. Next, use our pet-drug-price search to locate pharmacies with the lowest prices.
Lastly, visit any of the 70,000 participating pharmacies nationwide. Present the prescription for filling and the discount card and enjoy discounts of up to 85% on your pet medication.
It's that easy and simple to save on dog medication.
Whether it's your dog's arthritis or your ferret's diabetes medication, this pet discount drugs card will help you save on your pet's medication now and during routine refills.
Fast, Easy-To-Use Pet Prescription Discount Card
Using our pet discount drugs card is hassle-free. No paperwork or confidential information is needed. As a pet owner here are the options you have when you need to use this pet prescription discount card.
You can decide to print your unique discount card, use it or share it with your family members or friends for use. All they have to do is present the discount card to the pharmacist at your local drugstore to save on cat medication.
For those who don't prefer printing, there is a digital way to do it.
All you have to do is download the pet discount drugs card and email or text it to yourself. Next, you can visit the pharmacy together with the prescription and the downloaded card to save on pet medication.
Get your card directly to your email – https://petdiscountdrugs.com/email-a-card/
Print your pet discount card and start saving on farm animal medication now- print-pet-discount-drug-card.
It's Time to Get Your Pet discount drugs Discount Card
Owning a pet can be expensive. More so, it can be expensive if you have to purchase your pet's medication weekly or monthly.
However, the pet discount drugs card is here to ease some of that burden from your shoulders.
This card is easy and free to get and can help you get a discount on your cat's prescription medication.
This card can be used in major drug stores like CVS Pharmacy, Rite-Aid Pharmacy, Kroger Pharmacy, Walmart Pharmacy, Walgreens, Publix Pharmacy, Giant Eagle Pharmacy, Meijer Pharmacy, Target Pharmacy, Safeway Pharmacy, Costco Pharmacy, Albertsons Pharmacy, Longs Drugs, Sav-on Pharmacy, Fry's Pharmacy, Harris Teeter Pharmacy, Wegmans Pharmacy.
Click here to download your pet prescription discount card and save on your pet's medication.